Hygiene solutions

for the commercial workplace

Providing the widest range of hygiene solutions, Ecohygiene supports businesses in Melbourne, Sydney, Adelaide and Brisbane in Australia. Regardless of the environment, Ecohygiene can support your business in creating a healthier, safer, more hygienic workplace to meet the growing expectations from staff and customers alike for strong hygiene practice implementation and controls across the business.

Now more than ever, Australians expect and demand higher levels of hygiene protocol from their employer and customers need reassurance that best practice hygiene standards are in place, from the washroom to indoor air quality, surface disinfection to access to clean hand hygiene solutions.

Ecohygiene helps organisations combine their hygiene services with commercial cleaning. Such integrations enables major savings in costs, resources and environmental impacts for workplaces.
---
The benefits of integrating your Cleaning and Workplace Hygiene Services
Whether you are a small, medium or large business, when it comes to hygiene in offices, best practice standards cannot be compromised. Depending on your needs, you will receive a comprehensive service including:
The full scope of works for regular cleaning
A complete sanitary hygiene service
Pre-emptive disinfection of high-risk surfaces
Topping up of hand sanitiser stations
Servicing of air fresheners for air hygiene
Top up of soap dispensers and hand towels
Servicing of toilet/urinal & toilet seat sanitiser
Automatic hand driers & Hand towel dispensers
Servicing of toilet seat wipes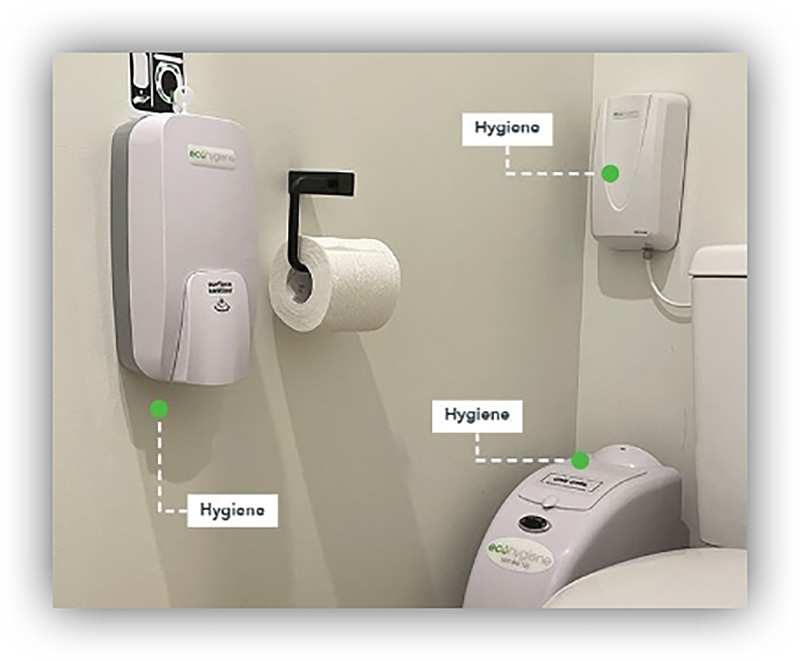 Our approach to hygiene solutions for workplaces enables you to reduce costs, cut down on the number of suppliers and service persons and make it easy for facility management with one point of contact for two services. We work proactively with customers across Australia to ensure that the best-in-class approach to hygiene and cleaning standards are achieved. Expectations on hygiene practices have never been higher.  Ecohygiene works to create a cleaner, healthier and safer workplace.
Our high-quality hygiene services look after
everyone
Click on an icon below to learn more.
It's easy for everyone to have ecohygiene
A comprehensive onsite hygiene check
Hygiene standards in workplaces cannot be compromised. Ecohygiene experts will conduct a comprehensive on-premises review of your current approach and offer a no obligation report on how to ensure exceptional standards in hygiene are adopted throughout the business.
Reducing the spread of sickness in the workplace
Hand hygiene has never been more important. Reducing the risk of touch-based spread of viruses and bacteria, breaks the sickness cycles in workplaces. It helps to boost the confidence of your workforce. From specialist surface disinfection to ongoing hand and surface hygiene solutions, protection of any tangible object that can be touched in the workplace is crucial to ensure the spread of harmful illnesses and germs is reduced.
Some employees may be managing illnesses such as anaphylaxis or diabetes. Access to safe disposal containers (sharps containers) is an expected requirement for most corporate environments. From a health and safety perspective it is wise to consider authorised containers that prevent access. Ecohygiene is also licensed to dispose of such clinical waste responsibly and in line with local legislation.
Ecohygiene can be relied upon as a trusted partner to support the hygiene requirements within your organisation. Locally, Ecohygiene has an extensive network of cleaning and hygiene staff and experts to support your business, no matter where in Australia you are based. We have branches in every main State and city and can offer an agile tailored and flexible approach to your hygiene needs.
End to end range of hygiene solutions
From washroom solutions to air hygiene, hand hygiene services to sanitary hygiene, Ecohygiene carries out the broadest range of solutions with the widest range of products to cater for all hygiene demands in the workplace.
Best-in-class hygiene solutions
We bring the very latest in hygiene technology to you. We work with a supply chain that is focussed on innovation, science, biology and research whose teams collaborate to ensure that only solutions that carry the highest efficacy in reduction of harmful transmissions, are launched. From our air hygiene solutions to our hand-dryers, we ensure that only devices that add value to protect people and our planet, form part of our hygiene offering.
Environmental Sustainability – Putting Planet before Profits
Ecohygiene, is a member of 1% for the planet, a global movement of a network of business, individuals and non-profit organisations tackling our planet's most pressing environmental issues. As a member, Ecohygiene has committed 1% of its revenues to ensure our planet and future generations thrive.
Contact us
Please let us know a little bit about you, and we'll be back in touch very quickly to discuss an ecohygiene solution that is good for everyone at your workplace.